© Graphic Image Technologies 2016

Security Technologies -

FLIR

IP CCTV and Thermal Solutions











Please Select one of the Video Buttons on the left Hand Panel
With thousands of installations spanning five continents,
FLIR is a world-class developer of open video
surveillance solutions including video management
systems, cameras, encoders, video analytics, custom
integration and applications.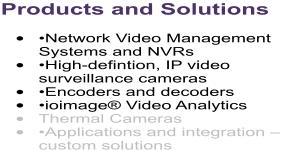 Experience open-standard, network-based VMS solutions that feature the most user-friendly
operation available today. From entry-level to enterprise, thanks to our innovative technology,
now you can.
Latitude is the platform of choice for corporations and organizations that want to manage
video surveillance operations over IP networks efficiently and effectively, and is scalable to
match the requirements of your operation
Latitude (Network Video Management System)
Latitude NVMS® is a cutting-edge video security solution and the
platform of choice for corporations and organizations looking for
the most effective and efficient way to manage surveillance
operations over IP networks

Horizon (Network Video Recorder)
The Horizon NVR combines unmatched enterprise-grade quality,
reliability and scalability in a sized-to-fit, competitively priced
solution for small to medium sized businesses.

Meridian (Network Video Recorder)
Off-the-shelf and cost-effective NVR, the Meridian is an
enterprise grade plug-and-play video surveillance system for
security installations of 8, 16 and up to 24 cameras, equipped
with built-in 8 port POE switch.
Supporting 1 to 8 channels,FLIR's line of fully integrated and self-
contained video analytics and encoding appliances deliver a high
probability of detection and low false alarm rate in harsh weather
conditions, low visibility and poor lighting conditions.
The ioi encoder line supports multiple detection types including:
intrusion detection, unattended baggage, loitering and camera
tampering, object removal and stopped vehicle.
Other features in the line include: autonomous PTZ tracking, two way
audio and IO and analogue and IP streaming with hybrid output. are
also supported.
Real-time analytics take a mere five minutes to setup
Perimeter Protection Solutions
PROTECTING YOUR PERIMETER
At FLIR, we understand your
challenges in securing your
critical infrastructure and
protecting your perimeter. We
also understand that, like every
customer, your requirements are
unique. With that in mind, we
have developed a complete set
of perimeter protection solutions,
built on top of ioimage military
grade analytics, that address
your specific needs.
No matter what your
requirements are whether
tracking distant targets
approaching your facility or
detecting intruders breaching
your perimeter, sending alarms
to a control center or to remote
client...sending a live video
stream from a security
patrol…activating a siren…or
closing a gate. FLIR has all the
solutions you need for handling
your security events.
PERIMETER
PROTECTION BY FLIR
ALL YOU NEED TO
SECURE YOUR SITE.
Never before has there been so much choice and flexibility in a video analytics solution. FLIR is pleased to offer the most
comprehensive video analytics portfolio in the security industry today.
All sites. All topologies. All architectures. All detection applications.
Regardless of your infrastructure today. Analog. IP. Hybrid. Centralized. Distributed.
Regardless of where you want to be in the future. Full HD IP. Local today, global tomorrow.
The power of analytics from FLIR end-to-end
The TRK-101 is a small, self-
contained video encoder that does
not rely on additional components
for video analysis.
The TRK-101 analyzes the
captured video signal to send
alarms and notify of people, vehicles and objects that cross a
perimeter line, enter a pre-defined region, are left behind or are
removed from a scene. Users can set customizable rules and
criteria to define the perimeter and what to detect.
Part of the ioimage intelligent video encoder series, the TRK-101
features analog and IP streaming video outputs (H.264, MPEG-4 SP
and MJPEG), which enable hybrid connectivity to both legacy and
IP-based CCTV networks. The unit can be configured via a standard
web browser and takes less than five minutes to setup.
TRK101 Stand Alone Analytics
Flir's unified VMS solution allows you to access
multiple FLIR VMS servers from a single Control
Centre, ensuring easy system additions and
alleviating the need for a "forklift" upgrade on
expansion.
TThis generation of Quasar cameras offers the most advanced technologies with 4K Ultra
HD, the new evidentiary standard, and builds upon the proven foundation of broadcast
quality cameras.
Offering the industry's lowest bandwidth through its broadcast motion processing
architecture, the 4K Ultra HD camera series delivers predictable storage, lower utility costs
and reduced Total Cost of Ownership (TCO).
Now you can… get the 4K evidence you need at a price you can afford. Deploy a 4K Ultra
HD surveillance camera that easily handles wide variations in motion and lighting found in
airports, city surveillance projects, critical infrastructure sites, commercial offices and
campuses using the most technologically advanced HD IP camera.
4K Resources & Downloads
·
Quasar 4K Product Pages: ·Mini-dome | ·Bullet
·
Quasar 4K Datasheets: ·
Mini-dome | ·Bullet
·
Whitepaper: 4K Ultra HD Technology Set to Pay Huge Dividends for Video Surveillance
·
Whiteboard Video: DVTEL 4K Ultra HD: Your New Evidentiary Standard